Bermuda Wade International Airport BDA
serves the island chain of Bermuda (a U.K. overseas territory). It is gateway for sun-seekers from Europe and North America to Bermuda's beaches, resorts and hotels. The Airport is 560 miles east of Cape Hatteras, and a mere 2-hour flight from New York.
BDA Airport is located near Castle Harbor, 10 miles east of its capital city of Hamilton, St. George's Parish.
With a long runway, and close to 1M passengers a year, L.F. Wade International Airport is served by a number of major international airlines offering direct and connecting flights all over the world.
NOTE: Peak travel hours are 11am-2pm. A new dual-channel system is for those who have nothing to declare (exit the green channel) and for those who need to declare certain goods (enter the red channel).
- With a choice of checking in on-line, using self-service kiosks or the check-in counter at the Airport - note that self-service kiosks - accessible with any major credit or debit card - automatically calculate customs duty in a number of different currencies.
- Passengers are required to check in two hours before their scheduled departure.
- Peak hours at the Airport are between 11am and 2pm.
- The airport offers
U.S. Customs and Immigration pre-clearance
(tel. (41) 293--8127), which means
U.S.-bound passengers clear Customs in Bermuda
; flights arriving in the U.S. from Bermuda are therefore treated as domestic flights.
- Customs : If you have goods to declare, use the red channel - if not, use the green channel.
- Bermuda Immigration: tel. 441-293-2542; HM Customs 442 293-2424.
- Lost & Found: The Skyport office is open weekdays between 9am & 5pm. Tel. 441 293 2470.
The passenger terminal at L.F. Wade International Airport
has separate U.S., Canadian & U.K. Departures with pre-clearance. For Airport information, call 441-293-2470. Services and amenities inside the terminal include: Free internet access, powered seating for charging electronic devices, a children's play area, a number of food & drink and retail concessions, including duty-free stores. Airport arrival & departure taxes are $35.
Self-service kiosks, accessible with any major debit/credit card, calculate customs duty in a number of currencies.
Arriving passengers:
At Customs, chose either the Green line for 'Nothing to Declare' - or the Red line for 'Goods to Declare'
You have a choice of check-in counters or self-serve check-in automats.
Important Telephone Numbers:
- HM Customs - (441) 293-2424
- Bermuda Immigration - (441) 293-2542
-US Customs and Border Protection - (441) 293-8127
-Lost & Found (9am-5pm) - (441) 293-2470 or e-mail
[email protected]
Airline Contacts:
Air Canada. 441-293-1777
American Airlines 441-293-1420
British Airways 441-293-1944
Delta Air Lines 800-221-1212
JetBlue 441-293-3608
United Airlines 441-293-3092
WestJet 888-937-8538

Present and future Airport developments
: Construction started in March 2017 on a new state-of-the-art passenger terminal. The multi-million dollar redevelopment - to become
operational by 2020
- is undertaken under a newly-formed public/private partnership with Bermuda's Government and the Canadian Commerical Corportation CCC - while Bermuda Skyport will be the Airport's operator.
Maps, Airlines & Amenities
View maps, find airlines, discover food, shopping & more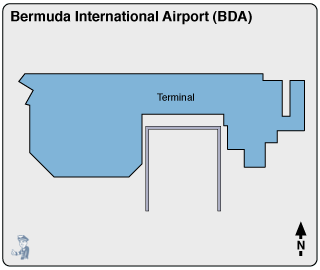 Saint George Airport Overview Map
Bermuda Wade Airport (BDA) Terminals
Airline Information
Airport Restaurants, Stores & Amenities
Find more help here for your journey through the airport