Airport Nutrition & Flying Healthy
Have you ever had to eat in an airport and walked what felt like miles up and down the terminal trying to find at least one healthy entrée? Of course you have!
I'm Marcey Rader, Lifestyle Trainer for Mobile Professionals. I understand first-hand that business travel isn't just part of your job, it's a lifestyle. I spent over a decade traveling around the world for my job and have suffered through that same struggle. Now I own a business helping road warriors like you be healthy and productive on the road. Because iFly is my fave site for air travel productivity and health, they asked me to write about health hacks for air travel. I was happy to oblige.
My belief is that you can't be healthy without being productive and you can't be productive without being healthy, especially when you're traveling for business. The first item we'll cover is Airport Nutrition (Oxymoron? Yes.)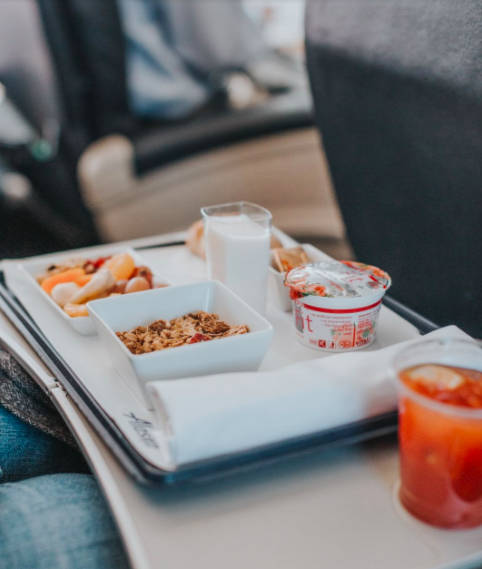 Carlson Wagonlit Travel did the most extensive research on 6,000 travelers and rated the stressors of travel. The highest for females were 'routine breakers' and included lack of access to healthy meals. The Physician's Committee for Responsible Medicine rated airport restaurants for one low-fat, high-fiber, cholesterol-free vegetarian entrée and found only 76% of the busiest airports offered even ONE!!! They specifically look for menu items with vegetables, fruits, whole grains and legumes. And sure, things have been improving, but since burgers won't be losing out to salads for many folks any time soon, there will always be lots of 'evil' temptations.

The top five airports for healthy foods?
2) Detroit Metropolitan Wayne County Airport and Chicago O'Hare (Tied)
3) Ronald Reagan National and Los Angeles International (Tied)
4) Baltimore/Washington and Washington Dulles (Tied)
5) Phoenix Sky Harbor and Dallas Ft. Worth (Tied)

The worst was Hartsfield-Jackson Atlanta airport, which is unacceptable given its size. Only about half of its eateries offered healthy options. How can you plan for this? By using iFly! I use it to see what restaurants are at the gate or terminal I'll be spending time in, that way I know what my choices are.
How many of you have stopped at a sub-par restaurant and bought a chemical-filled meal only to walk 200 meters and see a restaurant you actually like with real food?
Susceptible to jetlag? Learn how to defeat this sleep-killer.
What should I eat before flying, and what should I avoid?
Hey Marcey, why do I feel bloated and icky when I fly? Well Road Warrior, sodium + air pressure + sitting = water retention. Altitude affects your digestive system and causes gases to expand by 30 percent. This can explain that constipated, 'can't poop in the hotel room' situation. You know what I'm talking about.


How to combat this? Look for the foods that are the least processed. It doesn't matter what kind of plan you are following – Paleo, vegetarian, Weight Watchers, you should always be looking for the least processed option. The less processing there is, the less sodium will be in the food.


Do what you can to avoid the airplane meals, which you're probably only getting if you're in first class. Alternatively, just eat the fresh part of the meal, if there is anything fresh, and avoid the entrée. Altitude also affects our taste buds so airlines have to add more salt on our food for it to taste good. Plus, the average airline meal has 950 calories, which you don't need because you're just sitting there, and it probably doesn't even taste good.


Humidity falls to about 20% in an airplane, which is why you get those dry eyes and throat and a bloody nose after flying. High sodium foods can make this even worse.


Having caffeine on board can compound these problems since it's a diuretic and you're already forced to succumb to the altitude, air pressure, sodium, and sitting. Save it for later.


Summarizing what we've covered so far:
1) Airports are still in the dark ages when it comes to healthy offerings to passengers (but getting better!).
2) Why you feel bloated and icky after you fly.
3) How sodium can ruin your flat tummy and your bathroom experience.


How to make sure you get that coveted overhead bin space
What's the worst thing for me to eat at the airport or on-board?
Wherever you are, buyers beware! Inspections of almost 800 restaurants at 10 airports found violations. At one airport 77% of the restaurants had at least ONE critical violation, some of which included rodent droppings and kitchens without soap! Being sick while traveling is as much fun as having your toenails peeled off one by one so it pays to be extra cautious.


Beware the Grab and Go Cooler!
Grab and Go Coolers are notorious for not having appropriate temperatures for meat products. If you purchase from a Grab and Go Cooler, do not let it sit in your bag until you are safely on board, the plane has taken off, and you have received your drink. This could easily be an hour or more after you have purchased it and chances are the meat wasn't stored at the correct temperature to begin with. At least do this….if you have purchased anything with mayo, meat or eggs, eat it when you buy it. People blame food poisoning all the time when they get sick while traveling but often it can be prevented. Would you make yourself a chicken sandwich with mayo and let it sit on your kitchen table for over an hour before you ate it? Doubtful. Why do we do it when we're traveling?


Common eats that should only be treats
If you're traveling for business you are not on vacation so the idea of eating treats every day while you're gone is bunk. I used to do this when I first started traveling. It's easy to get into the habit. I lived on frozen yogurt, soft pretzels and iced coffee drinks. Sodium+ sugar + caffeine = recipe for air travel disaster.


Soft pretzels and giant muffins are 400-500 calories of refined carbs. Soft-serve frozen yogurt is highly processed, filled with sugar or artificial sweeteners and often has artificial flavors. For the love of cows, it comes in a bag in liquid form! Skip it or have one scoop of real ice cream instead. Fancy coffee drinks are sugar, caffeine, calories and sodium. This is a dessert. Treat it as one.


Other foods high in sodium include those that are heavily sauced (the stuff masquerading as Chinese) as well as processed meat and hot dogs. Sodium + dehydration + lack of movement + cabin pressure = a trip for Dulcolax.

Ok…got it. Now what
do

I eat?

Typically, airports aren't where you get your best meal of the day so don't expect to get exactly what you want, prepared the way you want it. However, you might be able to find some good choices if you're willing to plan a little and also use iFly to see what is available in the terminal you'll be hanging out or connecting in. Salads with beans, hummus and edamame are good choices. Steamed mixed vegetables, non-meat sushi (unless they are making it fresh. Remember, Grab and Go Cooler is not ideal for raw meats) or fish if you have access to a sit-down restaurant. I'm not including meat because I try to eat only grass-fed beef or meat without hormones and antibiotics and I don't know of any airport chains that care about that yet.



If you're gluten-free due to Celiac or Hashimoto's Disease like I am, download the apps Find Me Gluten Free and Fooducate – Gluten Free edition. Super helpful when determining which restaurants and foods are safe to eat.



When I'm packing from home I'll freeze individual packs of Wholly Guacamole 100 and hummus and throw them in my liquids bag along with some nut butter packets. I've never had security make me throw them away if I had them in my liquids bag. I also take my own vegetables and fruits because they are such rip-offs at the airports. If I'm at the client and I can tell via iFly that there isn't going to be something for me to eat, I'll stop at a grocery on my way and pick something up. Yeah, the grocery! A place people forget when they're traveling.



In the last two sections we learned what to eat and what to avoid at airports. Now we'll learn how you can get some movement in to combat all that sitting.

Staying light on your feet… To check or not to check your bag?
It's scary to check a bag because you may not get it at your destination and if you are flying into many airports, it will take as long as your flight to actually get your baggage (what is going on back there?). However, if I have a long connection I almost always check my bag so I can walk around the airport untethered. Even with a nice roller bag it still jacks up your posture and spine to be pulling it on one side all the time.


Regardless of whether or not you check your bag, make sure you have some comfy shoes you can put on to walk the terminals. I'll even find an unused gate and do an exercise routine right there. I've done sun salutations, push-ups, burpees and lunges all at empty gates. I've used my bag and done shoulder presses. Sometimes I'll whip out my exercise bands and do a routine that doesn't get me too sweaty but gives me an energy boost and a decent workout. At least four times I've had someone come up and ask me if they can borrow them while we were waiting for our flight. Each time we had multiple delays and were there so long that people were getting antsy and the movement really helped.


I have a collapsible hoop and have traveled with it several times. I've even whipped out my hoop at an empty gate and practiced or read and hooped at the same time. Are you the type of person who would be mortified to do this? How often have you seen someone in an airport that you knew? And besides, let the others stay in their tired, haggard, energy-drained state while you're increasing blood flow, reducing your risk for cankles and getting a little calorie burn to boot.


Other ways to get activity? Stop using the people movers. Take a look at who is standing on the people movers next time you are at the airport. I guarantee it isn't someone who looks fit and healthy. Or it's someone with very small children. That's a good excuse.


If you have a really long layover time, you might be fortunate enough to be at an airport with a fitness center. Don't get your hopes up, there aren't that many. I really think we could do with one less McDonald's and one more fitness center with showers. Even if you don't have shower access, that doesn't mean that you can't wet wipe yourself clean and put your clothes back on.

Fitness-minded airports include:
Dallas/Ft. Worth – American Advantage room has a small fitness center and showers. I've used this during a long layover. The Grand Hyatt full service fitness center and spa costs $30 for non-guests. Or take advantage of the free yoga studio with mats and looping DVD instruction or LiveWell Walking Path in Terminal D.


San Francisco International – yoga room


Detroit Metropolitan – Westin Airport Hotel has a full fitness studio for $15 and rents shoes, shorts and t-shirts for $5


Singapore Changi – fitness center in all terminals


Vancouver International Airport in British Columbia – full health club with pool


Hilton Chicago O'Hare Airport – full health club


Minneapolis-St. Paul International Airport – 1.4 mile walking path


Dubai International Airport – 24-hour gym

Zurich – Radisson (across the street via covered walkway) fitness center, Turkish baths and sleeping rooms. Long layovers can be dealt with by renting bikes, inline skates and Nordic walking sticks.


Los Angeles International Airport – 18-hole golf course or space for yoga at LAX Flag Courtyard


Munich Airport – pool and fitness center


Toronto Pearson International – fitness center with showers, locker and towel service


Cleveland Hopkins International – walking circuit


Seoul Korea Incheon International Airport – ice skating, golf club with driving range and putting green, fitness center


When you're on the plane, make sure you get up at least every hour and walk to the bathroom or walk up and down the aisle. I always sit in the aisle seat if I can just so I can get up when I need to. It isn't good for anyone, especially tall people who can't even straighten their legs, to sit in one position for even 20 minutes, let alone a cross-country flight.


If you can't get up, at least keep your feet moving by rolling your ankles and pointing and flexing your feet. Do some shoulder shrugs and wrist circles too while you're waiting on the beverage cart.


Being healthy and productive isn't about being spontaneous. It's about careful planning to make sure that you arrive at your destination feeling as energized as you can with what you have had to work with.


Make the best of your flight: Find Space in the Coveted Overhead Bin!
Find more help here for your journey through the airport