Traveling with Kids: Make Your Flight Great Again
Flying with infants and toddlers can be daunting, mainly if you are not well prepared. Whether you are a savvy traveler or not, we've polled seasoned flyers that have plenty of experience flying with kids, and have compiled a series of tips to help you prepare for the flight, getting through the airport and to your destination as efficiently as possible. Read on...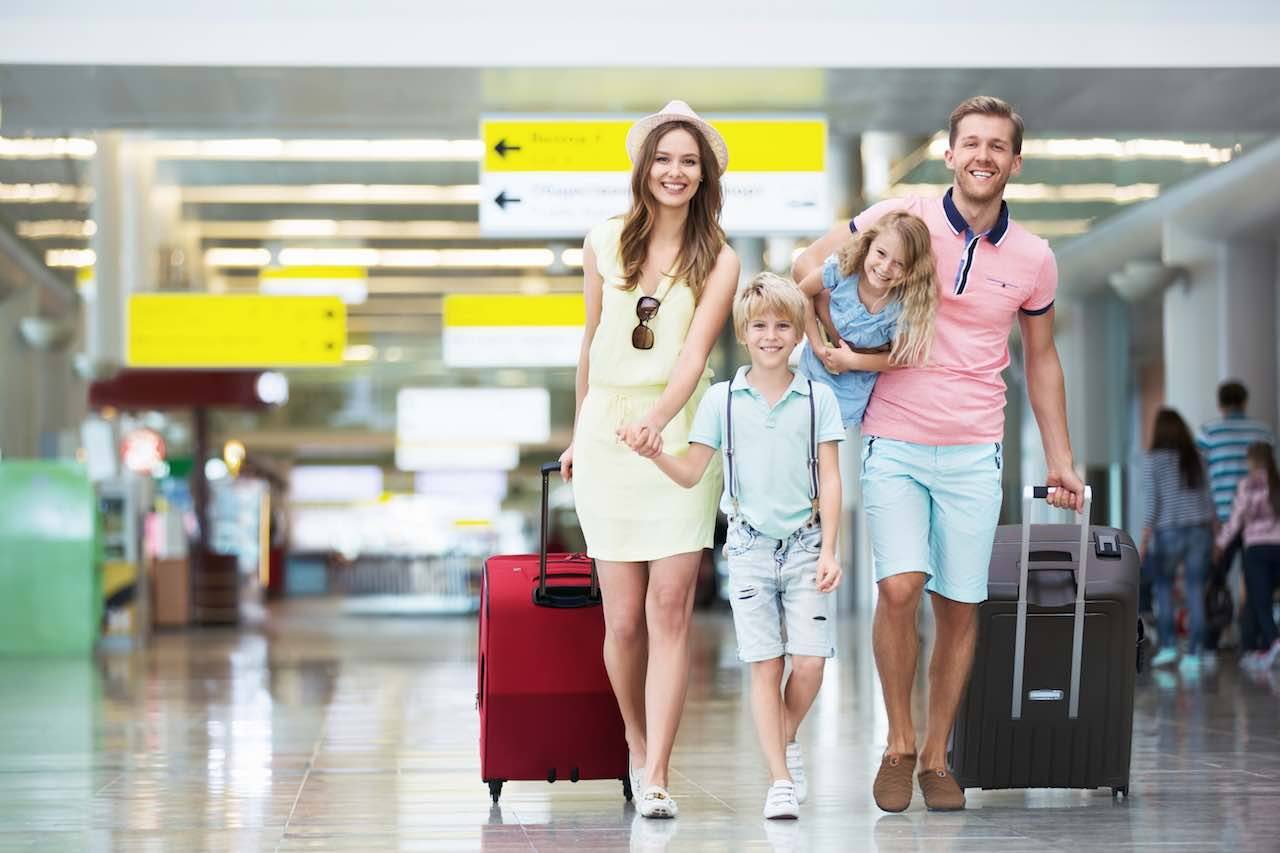 Tips to Be Prepared
If you want to fly with your young ones, it's better to invest time in planning and preparation. Otherwise, you may find yourself getting stuck with a hyperactive or crying kid.
1. Pack Right
When flying with infants and toddlers, you need the right supplies. The most important thing you must pack is carry-on. It's best to pack after knowing the regulations and weight/dimension limits you can take during air travel. For this, you can call or email the airline and airport.
Be sure to read the section tips for packing your carry-on when traveling with children. It will make flying with kids a much more pleasant experience.
Remember, young kids usually do not have much patience for airport security. Do not travel with snacks because this will lead to extra scrutiny during the screening.

READ MORE: What you can and can't bring on-board
2. Have your Docs in Order
Gather all the pivotal documents that you will require for your destination. It includes passports or domestic travel identification, transport details, a printed itinerary, and tickets.
It's best to download the mobile app of your airline and get the boarding passes pre-loaded on your smartphone. Also, stay educated about your airline's booking, boarding policies, and seat selection. They can differ from one airline provider to another and even by route.

3. Book an Early Morning Flight
Although you may miss out on sleep time, booking an early morning flight could offer you huge benefits. It will help you avoid delays at takeoff and landing.
Early morning flights are also less prone to turbulence, mainly thunderstorms, as per the National Severe Storms Laboratory. It's best to leave before 8 a.m.
But make sure your little one gets a good night's sleep. If he or she is sleep-deprived, this can create a nuisance inside the plane. You can avoid flights with late-night connections and long layovers.
Remember, people want to relax and rest on the plane. Obviously, you do not want to cause outrage by bringing a crying infant along.
4. Reserve a nonstop flight whenever possible
You can also reserve a nonstop flight for your child whenever possible. Moving children (especially infants and toddlers) and their belongings from plane-to-plane and through terminals is enough to put anyone over the edge.
It is best to minimize the number of times this must be done when flying with young children and infants. If it is unavoidable, be prepared and organized for it.
Benefits of having a nonstop flight
Fewer chances of complications
The nonstop flight is shorter
It can be more relaxed for your child
You can save money
5. Select connecting flights that have at least 1-hour separation
Try to book the flights that have a minimum of one-hour separation. By doing so, you have plenty of time to get from one gate to another as well as take care of the urgent needs of your children. And while you are at your connecting airport, be sure to track your flight so you can see when your inbound flight arrives. That will tell you how much time you have before boarding starts.

6. Preselect your seats
For making your journeys free from the hassle, it is advisable to preselect your seats if you are traveling with your infant or child. Further, you can also book a car seat for your little one.
Bulkhead seating can allow for more foot space but keep in mind that there is no under-the-seat storage. Make your choice wisely and strategically based on the number of adults in your party and the ages and compatibility of your children.

7. Gate check strollers & car seats
This means that you can bring strollers and car seats with you to the entry of the airplane and pick it up at the same location after landing. You must get a gate check tag prior to boarding.
This gate check is given to you by the flight crew in the boarding area. This tag is useful as the agent writes your seat number as well as other flight information on it.
8. Dress in Layers and Avoid Shoes with Laces
Be prepared for changing temperatures when flying with children. It's worth dressing your kids in comfy layers, mainly those without zippers, buttons. It will help them reach the bathroom in time.
Apply the same principle to shoes. Avoid shoes with laces. Instead, opt for a slip-on. It will let you pass through airport screening speedily.
Stay Calm
Travel with kids is typically much more stressful for parents. The great thing you can do for the little anxious flyer is to stay as calm as you can. You likely can't reduce the anxiety of your kid if you are anxious yourself. So the bottom line here is to keep your wits about you.
Moreover, your kid(s) may scream on the plane or hit the seat in front. It's worth having a strong action plan to calm your kid mid-flight.
READ MORE: Keeping your Kids busy during flights
1. Redirect Attention
If you know your kid is prone to stress or had a bad experience in the past, get the distractions ready. You can soothe your child with amazing toys, treats, etc.
2. Always Choose Your Seats in the Front
Consider sitting in the front row, mainly on economy flights. The front row is typically reserved for families with small kids. And if the row has vacant seats, you can get extra space for all the stuff you are carrying. Ultimately, it offers you some relaxation on your trip.
3. Ignore the People Staring and Breathe
People might stare - especially those without children or business people. Keep in mind that you paid your fare. The last time we checked, the airlines did not have any rules that prohibit children on planes.
It is always nice to be surrounded next to other parents with or without their children. They deeply understand what you are going through. In some cases, they lend a helping hand to you.
4. Don't Be Afraid to Ask
If you have some quiet moments, use this time to read a few pages of your favorite book/magazine or watch a movie. Relax; you will get through your flying journey with flying colors.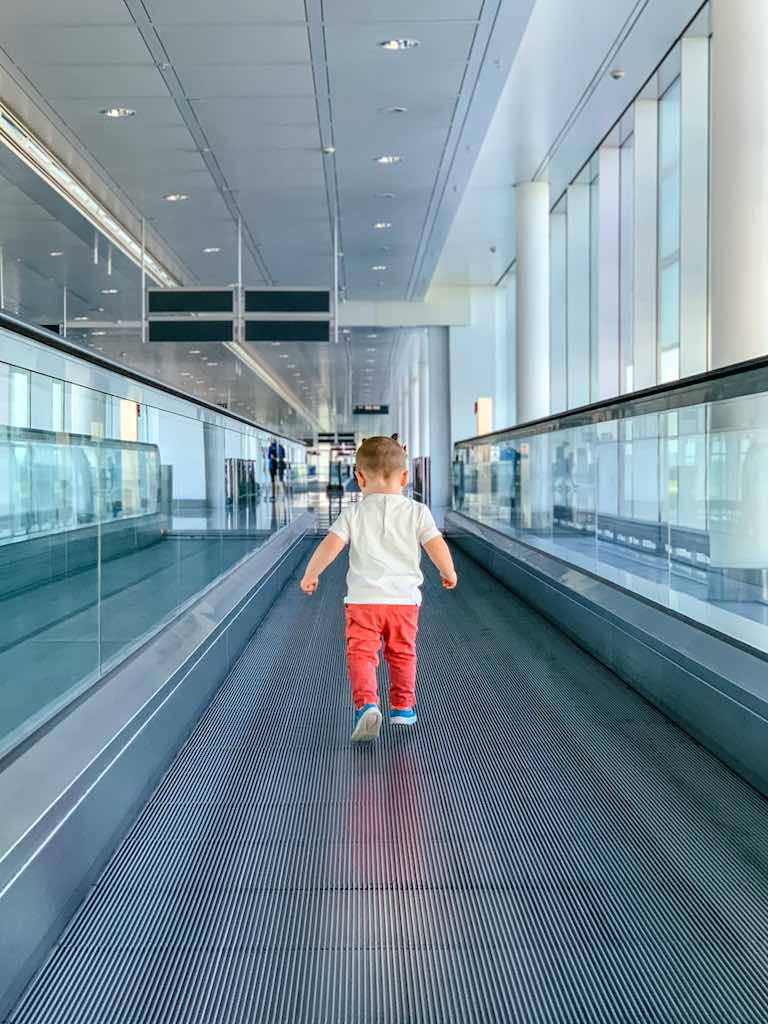 Be Safe
There is nothing more important than you and your little one's safety. The key to safety during your air travel with kids is adhering to proper restraints.
1. Consider Your Kid's Age
While traveling via air, take into account the age of your little one. Avoid air travel shortly after having a baby. Small newborns usually have developing immune systems. Air travel might make them prone to the risk of an infectious disease.
However, if you consider traveling with an infant, wash your hands frequently or use hand sanitizer. Do not make close contact with ill passengers.

2. Be Prepared for Air Pressure Changes
Despite sitting silently for hours, little ones can get fear and discomfort from air pressure changes. If your kid has recently got a cold or an ear infection, take the permission of a doctor before flying.
After passing through security successfully, stock up on enough water for everyone. Motivate your little one to drink after flight takeoff and during the last 30 - 45 minutes of the descent. Swallowing is the best solution to handle the fight air pressure as it offers proper hydration.

3. Use a Safety Seat
Few airlines permit infants to rest on a caregiver's lap. But the Federal Aviation Administration advises riding in the secured safety seats. Be sure to follow the flight crew's instructions and adhere to the seat belt signs at all times.
Find more help here for your journey through the airport