10 Pro Tips: Entertaining Kids In-flight
When you fly with your kids, it is really important to pack the stuff accordingly if you wish to have a blissful trip. We all know that kids are very energetic and how difficult it is to make them sit in one place.
If you are not prepared with the right things to keep your child entertained, it may create trouble for you and other passengers. So try to keep your children busy with appropriate airplane activities.
These activities help you to keep your child busy and make your as well as your child's journey smooth and happy. In this article, we will discuss some important tips that can help you to keep your kids busy and entertained while flying.
Whether your flight is of short or long duration, you need to make a plan for entertaining your children while flying. Consider the given below steps for the same.
1. Get a coloring book and crayons
The most common thing that you can do is to bring coloring books for your kids. Universally it is a good tool for children of all ages.
When your child is getting bored or not feeling comfortable, you can encourage them to become an in-flight artist by offering these kits.
2. Surprise your kids with a new toy
Before you leave for your trip, you can offer your kids to pick some of their favorites. But save some toys for surprising them during flying.
You can pack the new toy in your backpacks and do not tell them about it. It is because kids engage themselves for a longer time with a new toy.
READ MORE: Tips for flying with small children
3. Give them a View
Give your Curious George (or Georgina) the window seat, and watch as their eyes buzz about, ingesting all the sights and sounds of flight. Point out landmarks, pretty clouds, or other planes. Just be prepared to give up that seat on any future flight... your kid will be hooked!
4. Try magnetic games
You can bring some magnetic board games like checkers, tic-tac-toe, and chess along with you as they are a great resource for engaging your child while flying. The pieces of the games get stuck to the playing board hence make it easy to play.
Even you can also company your child for making the game more fun and interesting. Try to extend the game time as long as possible.
Moreover, let your child win the game most of the time so that they do not feel discouraged.
5. Read a Storybook
Carry some of the favorite books of your child and read them, and connect to the real world. You can also ask your kids to read the book after you. Comic books are the best for small children.
Take the books out one by one to keep the child busy throughout the flight. Moreover, if your child loves to read books on their own, let them take a new book so that they can spend most of their flying journey while reading.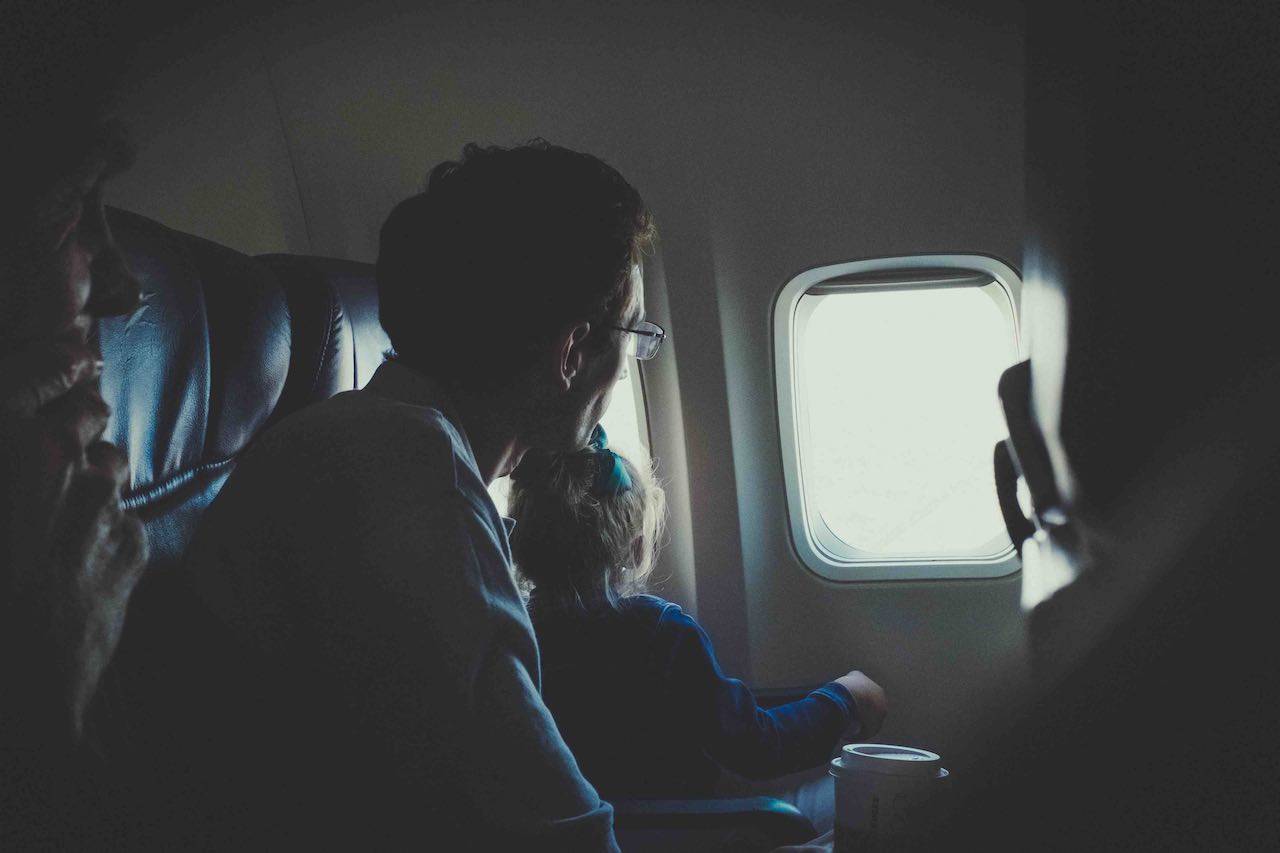 6. Play card games
Card games are one of the most favorite things that many parents do while flying with their kids. You can take a few favorite card games of your child to keep them busy on a flight.
Try to push the gaming times as long as possible because your aim is to keep them distracted till the time you reach your destination. To make the card game more interesting, you can also give scores to see who wins the most.
READ MORE: Carry-on tips for your kids

7. Make friends with the cabin crew
You can encourage your child to be friends with the cabin crew. Ask your child to greet them and appreciate them for their behavior.
This is one of the best ways to keep your child excited about their next trip and also build their self-esteem. If your child wishes to move from their seat, you can take them to the back of the plane so that they can interact with the flight attendants if they are free.
8. Give your kids a camera
You can carry kids a camera with you as it keeps them busy throughout the journey. Let them sit next to the window and ask them to take pictures of the beauty of the sky.
This activity helps them to keep engaged for long hours. Do not forget to have a memory card with lots of storage, as when they get excited, they may want to capture every single thing.

9. Pack plenty of food and snacks
Your kid's favorite snacks also help them to distract their mind and keep them entertained for some time during a flight. When your children get hungry, they may feel unhappy and also irritate you, so keep their bellies full.
So you can pack a healthy snack for your child to enjoy on the plane. Bring foods that your child enjoys and loves to eat at home.

10. Allow playing online games
Most of the airlines offer Internet access to their customers during the flight. If your child loves to play online games, then the in-flight Wi-Fi can act as a lifesaver to you. Moreover, if you plan to use electronic devices, make sure they are fully charged so that it does not spoil the mood of your child.
READ MORE: How to make layovers with kids less boring
Find more help here for your journey through the airport