7 Tips: Getting thru Airport Security with Kids
When you fly with your children, you do every possible research to make it a comfortable and smooth flying experience for your kids. You look for the best activities to entertain your child, pack favorite snacks, and many more.
But there are many more obstacles before you can actually fly; one of them is passing through the airport security. And whether you depart from a larger airport (such as DFW Dallas, or Detroit Metro) or a smaller one (like Tampa or San Jose SJC) usually make a difference in terms of the security queues during busy times.
So if you are anxious about passing airport security with children, then you are in the right place. In this article, there are some useful tips, which can help you to pass airport security with your kids without hassle the next time you fly with the kids..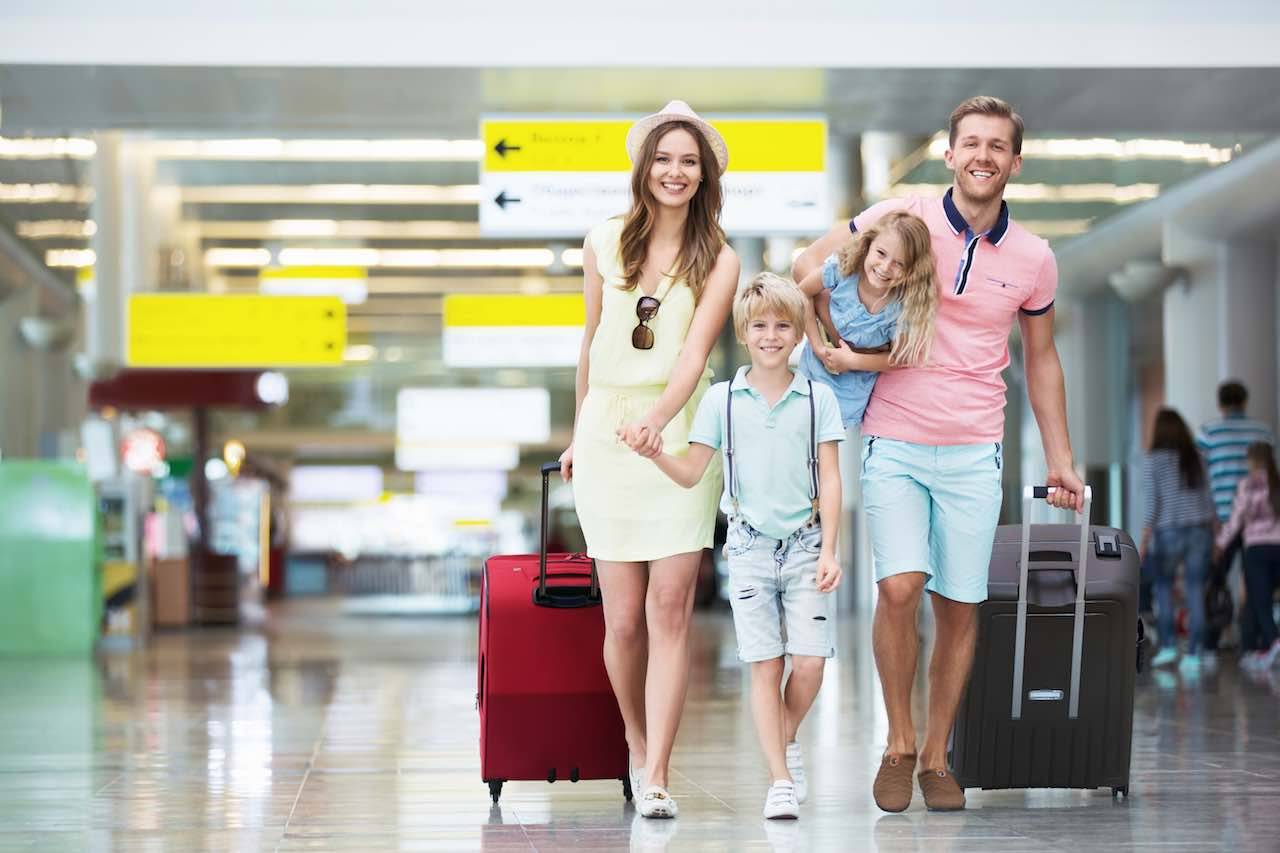 1. Have your Paperwork Ready
When your child is below 18 years of age, according to the TSA child rules, there is no need for any form of identification on a domestic flight. But, if your kid is flying as a lap infant, the airline may ask you for a valid ID to prove that they are below two years.
Some airlines may also ask for the proper ID for security purposes, so keep them in one place to avoid any issues. For international flights, you need to have a passport for your children.

2. Know the Screening Rules
There are several rules for the screening of the carry-on items and screening for the food and beverages. If you do not want your child to become cranky, you must know the screening rules so that you can save a lot of your time

Screening for carrying on items
Everything that you have with yourself needs to be going through the X-ray machine, whether it is the car seat, stroller, baby carrier, diaper bag, or food and beverages. Moreover, when the stroller or car seat does not fit in the X-ray machine, then a TSA officer will inspect it manually.
It is really important that you are aware of how to collapse the stroller of your child as the airport is not the right place to find that.

Screening of Food and Beverages
You can carry most food or snack items through airport security, but when you carry breast or formula milk and juice for your child, then you can have only a reasonable quantity of 3.4 ounces.
For screening of these items, you need to take them from your carry-on bag and then place them separately from your belongings. If you want to save your time, then inform the TSA officer at the beginning of the screening process that these liquids are more than 3.4 ounces.

Screening your child
Children under the age of 12 years can leave their headwear, shoes, and light jackets during the screening process. Moreover, there is no need to separate them from their parents or guardian.
Take your child from their carriers and carry them in your arms while walking through the metal detector.
3. Arrive Early
If you want to avoid the long lines at the security checkpoints, it is advisable to arrive early with your kids. For domestic flights, you can arrive two hours before the flight and at least three hours before an international flight.

4. Use the TSA Family Screening Lines
You can take advantage of the TSA Family Screening Lines for passing the airport security when you are traveling with a baby or young child. These family screening lanes allow you to avoid the long security lines at the airport.
Most of the larger airports offer this facility to families with small children. Sometimes you may not be able to spot the lines easily, so you can ask an airport employee for it.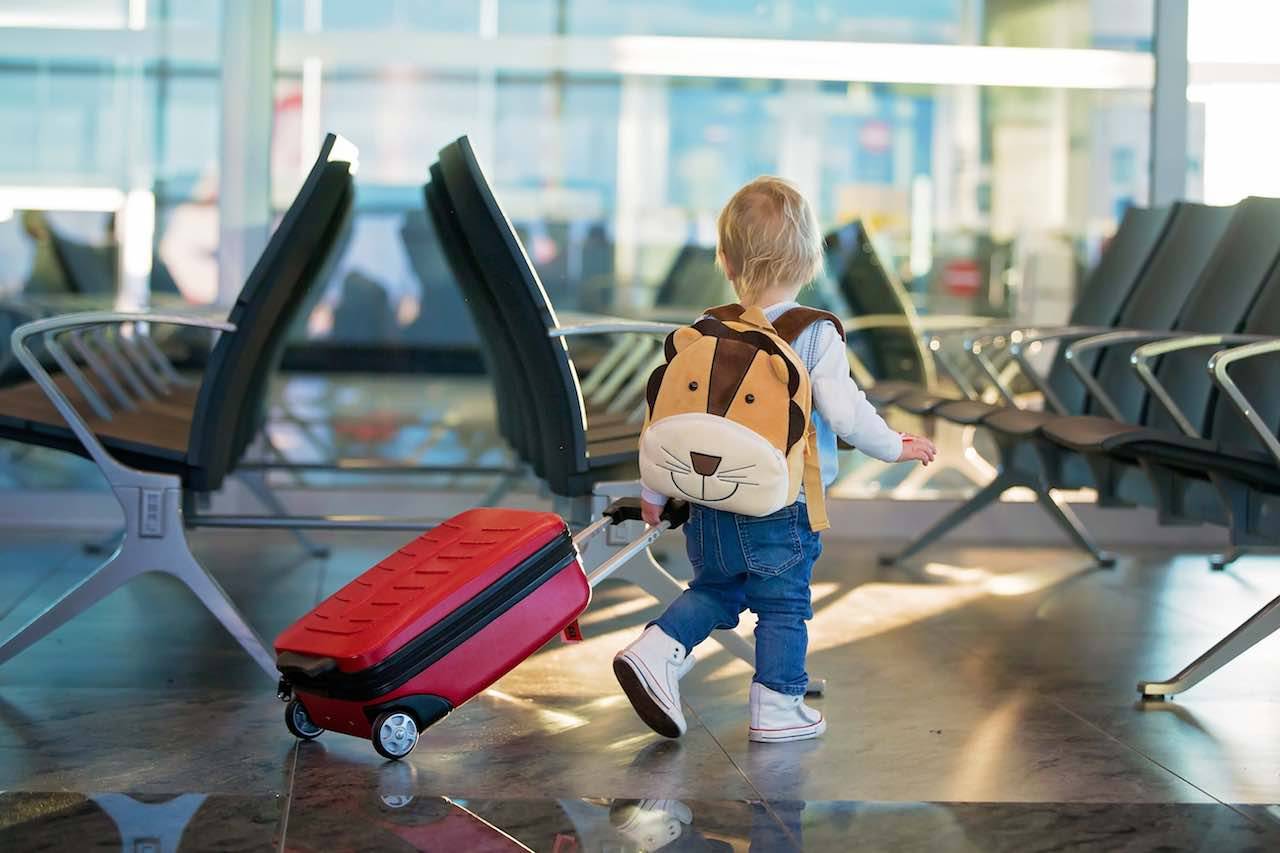 5. Wear Security-Friendly Clothes
If you want to get the kids through the security without spending too much time, then try to avoid wearing large metal jewelry as well as clothing with metal buttons. Try to dress yourself as well as your child with comfortable clothes that are also easy to remove for security purposes.
Keep in mind: children under the age of 12 years and adults more than 75 years of age do not require removing their shoes.
6. Know how long the Security Lines will be
If you're stuck in a long security line, your kids are going to get antsy and bored before you even make it to the plane. Prepare yourself accordingly by know what the wait times are at security checkpoints.

7. Apply for TSA Pre-check
When traveling with a child, you can also apply for the TSA Pre-Check. It is one of the best ways to clear the passengers who have confirmed their travel in advance.
It allows for the swifter passage of the passengers through the security checkpoints by shortening the lines. There is no need to remove shoes; no more removing liquids or laptops from your carry-on; as a result, you have much shorter screening lines.
Moreover, when a child under the age of 12 years is traveling with a Pre-check parent or guardian is also given a pre-check status.
READ MORE: Prepare your Kids for the Flight
Find more help here for your journey through the airport