CLEAR Airport Security Guide
One of the most frustrating aspects of air travel today is waiting in airport security lines. When you leave for the airport, unless there's an accident or some other delay, you know how long it will take you to get to the airport. Unfortunately this is not the case for getting through airport security. It can take just a few minutes in an empty airport, or over an hour during busy times.
So, how do you jump to the front of the line? The answer is CLEAR airport security. Available in most major US Airports, CLEAR is a subscription-based service that uses biometrics (fingerprints and iris scans) to validate your identity. This article provides more details about the CLEAR program, how it works, and how you can join.

CLEAR Enrollment and Fees
To get a CLEAR subscription, you must be:
a U.S. citizen or legal permanent resident; and
over 18 years of age.
The list price of a CLEAR subscription is $189/year. However, you can get 2 months of free membership via a partnership with iFly.com. After the free trial, the discounted initial enrollment is just $154!
Applying to the program is easy, the first step is to enroll online. Then all you need to do is show up at one of the CLEAR airport locations to complete your enrollment - there's no need for an appointment. You will need to bring a photo ID that matches up with your membership application. See below to learn more about CLEAR and how it works.
How CLEAR Works at the Airport
CLEAR subscribers can proceed to the security checkpoint and go straight to the CLEAR kiosks, where they will be met by a CLEAR Ambassador, who will ask for a boarding pass, and will help during the biometric scan. After this is completed, the Ambassador will escort the traveler directly to the TSA line (either the standard line or the TSA PreCheck line), where the TSA Agent will only require a boarding pass. The rest of the process is the same, and will include a luggage scan and metal detector and/or body scan.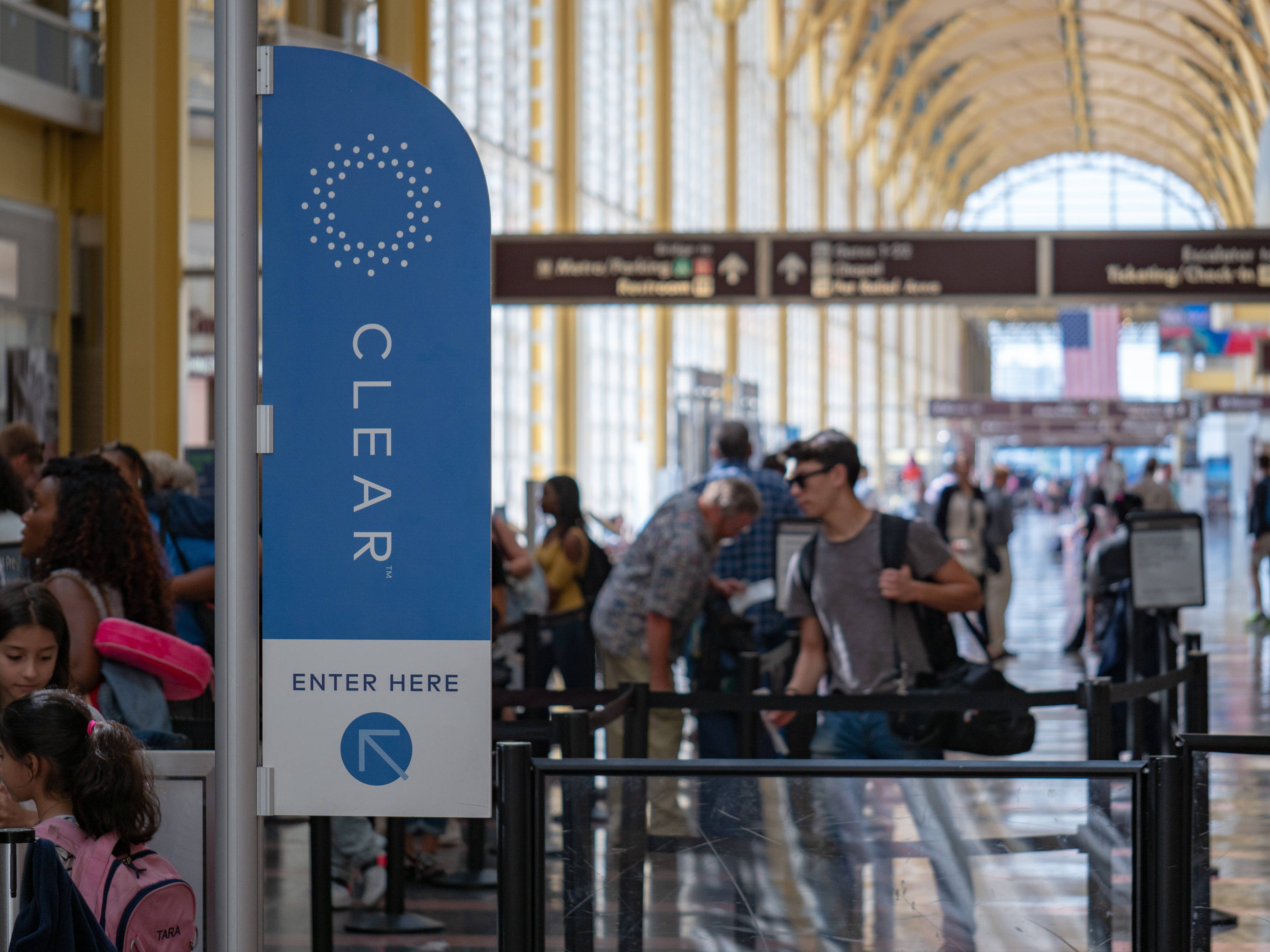 CLEAR AND TSA PreCheck - A Great Combo!
TSA PreCheck AND CLEAR make a great combination if you subscribe to both. You can think of it this way: CLEAR speeds up the process of identification, and TSA PreCheck (aka TSA Pre) speeds up the physical process of going through security.
According to the TSA, air travel volumes in airports are close to "normal" levels, and more and more people are discovering TSA PreCheck. That means even with this credential, you could still be waiting longer than expected. However, having both CLEAR and TSA PreCheck will speed up the entire process in several ways. Aside from a dedicated line, you also get the benefit of not having to take your shoes off (which we think is kinda gross)! Scroll down to see where you can use CLEAR.
Learn more about TSA PreCheck and how to enroll.
Clear Airports
More US airports are adopting the service over time as the CLEAR program becomes more popular. See the list below for current CLEAR Airport locations (sorted by Airport FAA Code):
CLEAR At Major Venues
CLEAR is known for its airport security expediting service, however, it is also available at a variety of non-airport venues across the United States. The company has expanded its reach to provide users with seamless access to stadiums, arenas, and other entertainment venues.
In New York City, CLEAR can be used at both Yankee Stadium and Madison Square Garden. San Francisco Bay Area residents and visitors can take advantage of CLEAR services at Oracle Park and PayPal Park. Sports fans in Austin, Texas, can use CLEAR to enter Darrell K Royal-Texas Memorial Stadium, while those in Arlington, Texas, can access Globe Life Field with the technology.
Other locations where CLEAR is available include Coors Field in Denver, Allegiant Stadium in Las Vegas, Banc of California Stadium in Los Angeles, FTX Arena in Miami, Target Field in Minneapolis, AT&T Center in San Antonio, and Capital One Arena in Washington, D.C.
CLEAR's is committed to providing users with a convenient and secure identification solution not only in airports but also in various entertainment venues across the country. As the company continues to grow, it is likely that more locations will adopt CLEAR's technology to enhance the visitor experience.
Q&A
One is not necessarily "better" than the other, as they are considered complimentary services. Both of these programs involve an enrollment process and carry a subscription fee. TSA PreCheck is operated by the Transportation Security Authority of the United States, and CLEAR is a publicly traded company. The most important distinction between the two is that CLEAR covers the "identification" part of the screening process, whereas TSA PreCheck covers the "physical screening" part of the process (the part where your stuff goes through x-ray machine and you go through metal detector).
Yes! Children (travelers under 18 years of age) accompanying a CLEAR Plus member can come along for the ride, they just need to have boarding passes ready. Once your child reaches 18 they will need to get their own account - the good news is that you can add up to 3 family members or friends to your account for just $60 each.

Yes, in addition to airports, CLEAR can be used to gain access to the following venues:


New York City
Yankee Stadium
Madison Square Garden

San Francisco Bay Area
Austin, TX
Darrell K Royal-Texas Memorial Stadium
Arlington, TX
Denver
Las Vegas
Los Angeles
Banc of California Stadium
Miami
Minneapolis

San Antonio

Washington, D.C.

CLEAR Plus, sometimes used interchangeably with just CLEAR, is the name of the subscription service offered by CLEAR to help get travelers through security screening more efficiently.
CLEAR Plus is a paid subscription service that makes getting through airport security fast and easy. With CLEAR Plus, there's no need to make a reservation so you just show up with your boarding pass and go right through. RESERVE powered by CLEAR is a free service, offered at a limited number of airports where an advance reservation is necessary. Unlike CLEAR Plus, Reserve requires that you provide an ID to the TSA officer. Note that Reserve will put you through standard TSA security, it will not work in conjunction with TSA PreCheck.
CLEAR Plus is a subscription-based service that costs $189 per year. However, you can get 2 months of free membership via a partnership with iFly.com. Children under 18 can come through the CLEAR line for free, and up to 3 adult family members (18 or over) can be added for just $60/year.

CLEAR is a publicly traded company called Clear Secure, Inc. (NASDAQ:YOU) headquartered in NY, NY. More information can be found on their website at https://www.clearme.com/

To manage an existing account, and do things like add/remove family members, adjust renewal settings, view billing, and more go to my.clearme.com and login using your credentials from enrollment. If you need to update your birthdate, name, address or your biometric information, you can visit CLEAR at any airport location.
CLEAR is operated by a private company, whereas TSA PreCheck and Global Entry are US Government operated programs. All require enrollment and have fees associated with their use. CLEAR Plus helps to speed up the process before physical security. TSA PreCheck offers faster physical screening for travelers, and Global Entry can speed up the process of getting through US Border Patrol and Customers if you are arriving from an international location.
Any traveler 18 years or older can become a CLEAR member. Enrollment requires proof of identity with one of the following: US Driver's License, US Passport/Card, US-Issued Permanent Resident Card, US State Issued ID, or Global Entry Card. The form of ID you use should be valid, unexpired, and have a photo.
You have come to the right place! Through a partnership with iFly.com (this website!) you can get a 2 month free trial of CLEAR Plus. After the free trial, the discounted initial enrollment is just $154 (list price is $189/year). Other adult family members can be added for $60/year.

First you need to download the CLEAR app on your smartphone. Tap the black "Sports and Events" tile. Login/enroll with a quick selfie photo to unlock your unique QR code and then show it to a CLEAR Ambassador on your way in. You can bring one (1) adult guest, and similar to airports, children under 18 accompanied by a CLEAR member can come along for the ride!
CLEAR is currently available in over 60 airports across the United States, as well as in certain sports and entertainment venues. However, it is not yet available in all airports. This page lists the specific airports where CLEAR services is available.

Yes, having both CLEAR and TSA PreCheck can speed up the entire process in several ways. With both, you'll have access to a dedicated line, and you won't have to take your shoes off. However, having only one of the two will not affect the other.

CLEAR Plus is designed to help you get through security quickly and easily once you have your boarding pass, so you'll need to have a boarding pass to use the service. That said, you will only need to show your boarding pass one time, to the CLEAR Ambassador when you arrive at the kiosk.

Find more help here for your journey through the airport